Patterson-Schwartz Agent Profile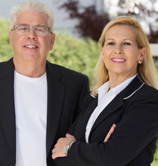 Cheryl Dolan
Cheryl Dolan & Terry Ryan

Brandywine Office
How Can Cheryl Help You?

---
About Cheryl Dolan
Born with an eye for design and a heart for impeccable service, Cheryl Dolan seamlessly blends her real estate acumen with her love for people. With 18 years of experience and a strong service-oriented approach, she and her business partner, Terry Ryan, have made a name for themselves by specializing in assisting seniors with downsizing and guiding first-time buyers. With a keen eye for aesthetics, Cheryl uses her Fine Arts degree from the International Fine Arts College in Miami to give her clients a unique edge. She uses her experience in interior and fashion design, honed in high-profile roles at Saks Fifth Avenue and other major department stores, to provide her clients with a highly personalized home selling and buying experience.
Together, Cheryl and Terry "go above and beyond times two" and are known for offering tailored services to their clients, taking time to understand clients' preferences, ensuring their needs are met, and their expectations exceeded. Their thorough understanding of the local markets of Brandywine Hundred, Wilmington, Newark, Pike Creek, and Hockessin, coupled with exceptional negotiation skills, make them reliable and trusted advisors. Cheryl and Terry are especially recognized for their commitment to customer service. This isn't just business – they regularly lend a helping hand to clients in need, providing meals, helping with transport, and even supporting clients through personal errands.
Outside of work, Cheryl can be found at the gym, taking walks with friends especially at Longwood Gardens, spending time with family and friends, traveling, gardening, or trying out new local restaurants. Driven by a passion for service and the joy of connecting with people, Cheryl is the professional who transforms real estate transactions into relationships.
When you're ready to make your next real estate move, let Cheryl and Terry put their skills and experience to work for you. You'll receive an unmatched level of service - whether you're buying your first home, downsizing after retirement, or ready to enjoy your golden years, they'll be there to help you every step of the way. Reach out to Cheryl Dolan and Terry Ryan, the agents who are always ready to "Go Above and Beyond Times Two".
What clients are saying about Cheryl Dolan & Terry Ryan