Patterson-Schwartz Agent Profile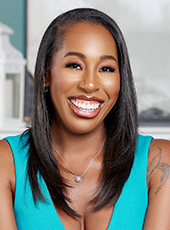 Lalisa Sweat

Greenville Office
How Can Lalisa Help You?

---
About Lalisa Sweat
If you're looking for someone who knows a house's true value beyond bricks and paint, then you've found her. Lalisa Sweat isn't just your regular real estate agent – she's your neighbor, your advocate, and your guide.
What sets Lalisa apart? Maybe it's her background as a Trademark and Business Attorney, ensuring every home deal you make is not just a good one, but a great one. Or perhaps it's her knack for credit repair, an added bonus if you're looking to understand your finances better as you buy or sell.
But what truly makes Lalisa stand out is her heart. Founder of the Bosses Sip Tea Society, she's always been about community, about bringing strong women together, and about fostering a sense of belonging. This isn't just business for Lalisa; it's personal.
At her essence, Lalisa believes in dreams – in the power of finding the perfect home or getting the right value for the one you've cherished. And more than anything, she believes in turning these dreams into reality.
So, if you want a real estate agent who gets you and genuinely wants the best for you, give Lalisa Sweat a call. Let's make your property dreams come true, together.
What clients are saying