Patterson-Schwartz Agent Profile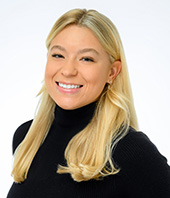 Kathryn Matic

Greenville Office
How Can Kathryn Help You?

---
About Kathryn Matic
If you are looking to buy your dream home, I can relate to that feeling! My childhood home, which is nearly 100 years old, provided me with a great source of comfort and happiness. The home you live in goes hand-in-hand with your health and happiness. It is my belief a house is so much more than bricks and mortar. Home isn't a place. It truly is a feeling.
Growing up, my family had always invested in real estate. I grew accustomed to hearing about the ins and outs, and the difficulties, as well as the advantages, of owning investment properties. This truly is where my love of real estate began! As a teenager, my friend and I enjoyed riding through lovely Wilmington neighborhoods just to admire the impressive homes and found it exciting to "peek" inside those homes through real estate listings.
As a Wilmington native who still calls Delaware home, I have explored many of the beautiful parks, neighborhoods, and shops this great state has to offer. You might see me taking a stroll through some of my favorite destinations such as Valley Garden, the Wilmington River Walk, the Nemours Estate, or Battery Park. My ultimate place to be is with my feet in the sand at any of our Delaware beaches. One fun fact about me is that I have over thirty cousins and, chances are, you might know one of them!
Right down the street from the Patterson-Schwartz Greenville office, you can find me at Tower Hill School caring for young children. It has been a true joy working at Tower Hill after making so many wonderful connections with families, kids, and staff. This is also where I learned to balance numerous responsibilities and develop a professional demeanor while earning my bachelor's degree at the University of Delaware.
You can depend on my energy, drive, creativity, and persistence to close a deal at your personal pace. My goal as your real estate agent is to listen to your wants and needs. Excellent communication from day one is promised and necessary as your agent. I am driven by the challenge whether it is buying, selling, renting, or staging. Staying positive in every situation is what has brought me so far in my life and I would love to extend that to you.
As Abraham Lincoln said, "The best way to predict the future is to create it." So let's create your future together, one brick at a time!
What clients are saying