Patterson-Schwartz Agent Profile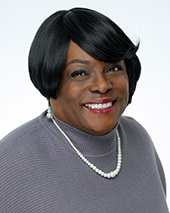 Angelia McNair

Newark Office
How Can Angelia Help You?

---
About Angelia McNair
Hello friends, I welcome you to get to know me. I was raised as an Air Force brat until the 10th grade, moving from state to state and living in Japan was new and always exciting. However, I always felt a little anxious having to move frequently, but a part of me enjoyed it. Coming from a family of six brothers and sisters, the moves were usually the complete responsibility of my mother because my dad was already at the new base. Sometimes we had to live in temporary housing while we waited for a house large enough for a family of eight. I realize the flip side of moving so frequently — the importance of having a stable home to live in with your family. It is my goal to assist my clients in accomplishing just that. 
Working with people, understanding their needs, and listening to how I can be of service to them is the foundation of my expertise as a paralegal. With over 40 years of experience, I honed the strategies; legal training in the various areas of the law, including real estate law; and excellent customer service skills that will ensure your home purchase or sale to be a rewarding experience.
As a long-time resident of Delaware (with some time in Florida), I love this area of the country where there are beautiful winters, autumn, summer, and fall. While still loving the tropical atmosphere of Florida, I enjoy Delaware's beach towns tremendously.
My friends would describe me as hardworking, funny, a go-getter, and highly intelligent. I love to dance, sing R&B, oldies, and jazz. I also enjoy swimming, socializing, and traveling. I am a member of several non-profit organizations whose principles are based up charitable, sociable work, by helping those who are less fortunate. We provide service to some local domestic violence programs, Epiphany House for Women, Rose Hill Community Center, Child, Inc., and other organizations through volunteerism and monetary donations.
The purchase of a home is one of the largest investments that most of us will make in our lifetime and, as your advocate, I will be there to assist you through the exciting process of home ownership and make it a rewarding and successful experience. I will assist those who are selling their homes with just as much integrity and enthusiasm to obtain their goals, as well.If you are interested in working with a real estate sales agent who will have your sole benefit at heart, contact me! Looking forward to hearing from you real soon.
What clients are saying