Patterson-Schwartz Agent Profile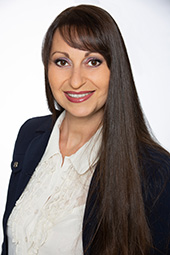 Yuliana Goldin-Dunn

Middletown Office
How Can Yuliana Help You?

---
About Yuliana Goldin-Dunn
Yuliana's interest in real estate started while searching for her first home. She finds it fascinating to walk into homes and see the potential. She knew her first home would become an investment after she upgraded to a family home; real estate has been a part of every conversation ever since. She has been an active Delaware investor for the last 12 years.
With her real estate investing background, psychology degree, and 15 years of corporate experience in customer service, contract negotiations, and conflict resolution, and top sales awards, Yuliana recognizes the importance of providing top-level care and service to make your experience as successful as possible.
Relocating to a new neighborhood, town, or even country is an experience Yuliana understands! She's a transplant from Lithuania who speaks fluent Russian and English. She has lived in Lithuania; Vienna, Austria; Italy; and the United States (with 17 years in Delaware). Yuliana understands cultures, needs and what it takes to build life in a new place and would love to use her experience to guide the way to a smooth and enjoyable process for you.
Yuliana is a family-oriented person with two highly energetic kids under 10 and two rescued pets, a Dalmatian and Maine Coon cat. She's passionate about animal welfare and supports rescue organizations. In her spare time, she makes glass art, loves to cook, grows organic fruit and vegetables, and savors foodie activities, especially seafood and various ethnic foods. Ask her where all the best places to eat are!
Buying or selling a home requires a REALTOR® who is hard-working, adaptable, dependable, detail-oriented, positive, and empathetic – an advocate who always has your best interest in mind to successfully complete your purchase or sale with ease. That's Yuliana! She will always get back to you when you reach out and will always be on your side, as making you happy is her ultimate goal. You can trust that Yuliana will work hard to get you through the transaction into the perfect home that is just right for you. Give her a call today!
Yuliana is a member of the New Castle County Board of REALTORS®, Delaware Association of REALTORS®, and the National Association of REALTORS®. Yuliana is also licensed in Pennsylvania and Maryland.
What clients are saying