Patterson-Schwartz Agent Profile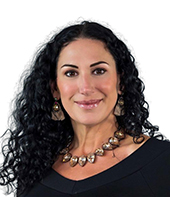 Amber Durand

Chesapeake City Office
How Can Amber Help You?

---
About Amber Durand
Imagine having the confidence and vision to walk into a job interview to say you're "going to kill it — just wait and watch." And then having the commitment and knowledge to make it happen. That's what Amber did as a brand-new agent! She has grown from a single agent to the leader of a top-producing team and is now the branch office owner of the Chesapeake City office managing a roster of 15 agents.
With a broker's license in MD, DE, and PA, Amber offers her clients an unparalleled level of expertise and local knowledge to help them navigate any challenge in any market. She sets her personal bar high and continuously sets new goals. Applying her belief that it's better to be uncomfortable from the beginning when you don't know any different, she aggressively pursued obtaining her real estate licenses in all three states within six months of entering the business. She attributes much of her success to her tenacity and has negotiated and closed many deals that others might have walked away from.
Amber is super local and super involved in both her community and real estate industry. She has lived in Cecil County since 2004 and can walk to the office — although she's not opposed to running, either for town council office or in the Baltimore Half Marathon. As a member of the town's Chamber of Commerce, she organizes events like the St. Patrick's Day parade to ensure the best outcomes. She is a self-professed "over-volunteer-er" and believes if you're going to be involved, be involved!
Doing the right thing and following rules is Amber to a fault. You can count on her to be conscientious, detail-oriented, and hold your hand when the path isn't clear. Through coaching and educating agents in her office as well as her real estate clients, she discovered she has the heart of a teacher. You can spot her teaching at CCBOR® and other venues to raise the level of professionalism and knowledge among her peers.
If you're ready for a real estate experience like no other, you don't need to wait and watch… contact Amber today!
What clients are saying