Patterson-Schwartz Agent Profile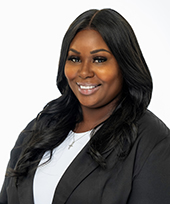 Taria Barrett

Middletown Office
How Can Taria Help You?

---
About Taria Barrett
Hello! I'm Taria Barrett, and my journey to becoming a dedicated real estate agent took a few exciting turns. Before diving into the world of real estate, I sculpted my skills as a hairstylist and later, mastered the art of multitasking as a bartender/server. These roles instilled in me a fierce dedication to customer service, impeccable time management, and the ability to juggle multiple priorities simultaneously.
My love for traveling and cooking has given me a unique appreciation for the beauty and potential in every space, while my cherished moments with family have shown me the importance of a welcoming home. At my core, I've always been driven by a passion to help others. Today, that passion translates into assisting you in buying or selling your home. Choose to work with me, and you'll be met with quick communication and a relentless advocate in your corner.
Your home is a pivotal chapter in your life story, and I'm eager to help you craft it. Let's embark on this journey together – ensuring your home adventure is seamless, satisfying, and tailored to your dreams. Ready to make a move? Let's connect today!
What clients are saying