Patterson-Schwartz Agent Profile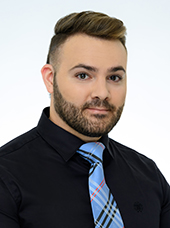 Tyler Varnes

Newark Office
How Can Tyler Help You?

---
About Tyler Varnes
What do you get when you combine a can-do attitude, supreme negotiation skills, and a tenacious work ethic? An astounding agent who will advocate fiercely for you and cares about you as a person, not a transaction. Meet Tyler A. Varnes! From Newark to Hockessin and all the way down to Middletown, he is your New Castle County expert.
Tyler's background is as a sales manager and a personal trainer. He excelled in negotiating as a sales manager and consistently ranked at the top of the organization. You can expect nothing less than him doing everything in his power to get you the best possible deal. As a personal trainer, Tyler changed lives and helped clients lose hundreds of pounds. How? By listening to their unique goals and challenges and developing a personalized plans — much like how he'll help you with your purchase or sale. You'll benefit from his never-give-up attitude, support, and determination which are all the more crucial in today's real estate market. He will not stop until you and your family are pleased.
When's he's not showing or listing houses, he enjoys playing with his pet dog, Roxxy (a rescue), and being outside, active, and working out. He also loves to travel and experience new cultures through their different foods and languages. And is a huge movie critic — he can't watch a film without giving his point of view.  
When you combine all of this with his tenacity, energy, and enthusiasm for what's in front of him, it creates the perfect storm for an excellent agent. Contact Tyler today to get him in your corner for anything real estate!
What clients are saying