Patterson-Schwartz Agent Profile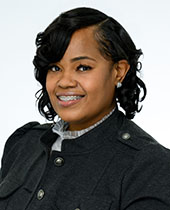 Denice Powell

Brandywine Office
How Can Denice Help You?

---
About Denice Powell
I was born for real estate! At least, I have always felt like I was. Over the last 20 years, my career has built upon intently focusing on customer satisfaction and a strong desire to assist others in achieving their goals.

My career has spanned customer service representative and consumer credit counselor for banks, receptionist for a local charity, and, most recently, Transportation Security Administration for 14 years. From each of these positions, my love of social interactions grew, shaping my strong sense of compassion, enthusiastic can-do attitude, and my ability to recognize and overcome challenges with ease. I've been recognized for excellence in teamwork, attention to detail, and improving efficiency.

A Delaware resident, born and raised, I have witnessed many areas in Delaware undergoing complete changes — almost all for the better. Therefore, I wholeheartedly understand the importance of taking pride and value in our community. I attended public schools throughout Wilmington and Newark, DE, followed by studies in behavioral sciences at Wilm U, where I embraced my passion for communication as well as effectively working independently in order to see projects through to completion.

Along with maintaining a career, I have and continue to be an active member of my community in between raising/refereeing three young children (two daughters and a son; ages 6, 9 and 10). I also volunteered with the Division for the Visually Impaired and the Wilmington VA Medical Center.

Providing you with knowledgeable expertise while delivering the highest quality of professionalism and performance to ensure that you are comfortable and informed throughout the entire process as we fulfill your real estate goals is my number one priority!! I have always been highly complimented on my easy-going adaptability and now I am ready and waiting to adapt to you! Contact me and let's get started today!

What clients are saying