Patterson-Schwartz Agent Profile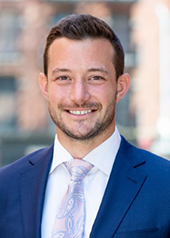 Andrew Warren

Middletown Office
How Can Andrew Help You?

---
About Andrew Warren
I have a passion for people and a passion for real estate. I combine these passions as a Delaware REALTOR, and strive to give every person I work with a positive and unforgettable experience when it comes to buying and selling a home.
With a background in finance and commercial real estate, I bring more than passion to the table. After 15 years in this industry, I know the "process" side of a real estate transaction inside and out, but when you buy or sell a home - arguably one of the biggest assets you will ever own - you need more than an agent who understands the process. You need an agent with character and integrity - an agent who will fight for you, keep you informed, and treat you with honesty and respect every step of the way.
I've made it my mission to be this person to all people in all areas of my life - especially for my clients. Here are just a few of the things my client have had to say:
"Andrew went above and beyond the call of duty." - Joy C.

 

"Andrew was dogged and persistent, and extraordinarily patient with us. We never felt pushed to make a decision." - Amit & Sarah T.

 

"Andrew is extremely knowledgeable and guided me in the right direction. He genuinely cared about finding me a home that fit my lifestyle and needs." - Sarah W.

 

"Andrew has been by far the most professional and, quite frankly, the best agent we've ever had the pleasure of working with, and we cannot sing his praises enough." - Joy & Darren L.
My passion for helping others continues outside of real estate: I am very active with my family's non-profit, Kay's Foundation, and the summer camp for kids with cancer that we run called Kay's Kamp. Kay's Kamp is Delaware's first and only oncology summer camp, where we host kids with cancer and those in remission, FREE of charge (visit www.kayskamp.org to learn more)!
When you are ready to start your real estate adventure, contact me and let's get started!
What clients are saying