Patterson-Schwartz Agent Profile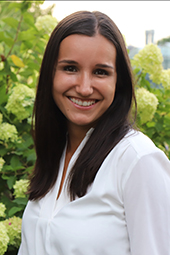 Anahi Clouthier
Lauri Brockson Group

Newark Office
Languages:
German,Spanish
How Can Anahi Help You?

---
About Anahi Clouthier
My path to becoming a REALTOR® in Cecil County might not have been a straight shot, but I believe that the twists and turns prepared me to best guide you through the process of buying or selling your home.

I was born in Bolivia and raised in Germany, where I graduated with an architecture degree, before moving to Denver, CO. In Denver, I discovered my love for hiking and the outdoors! Living there for three years gave me a lot of time to discover the Rocky Mountains joined by my husband and our four-legged best friend. With a baby on the way, we moved closer to family on the East Coast and chose Elkton, MD as our new home to raise our beautiful baby girl. Safe to say, I understand (and have lived through) the challenges of relocating and moving to a new place that eventually becomes home.

With the technical knowledge gained through my architecture degree, I am able to see opportunities in your home to better market it and get the results you are looking for. I am very passionate about architecture and real estate and hope to share that joy with you. I am sure I will be able to help you envision and ultimately find the perfect home. No matter if your move is from one continent to the other or one street over, every move is big - and I am here to make it an enjoyable and exciting experience.

You need a REALTOR® who understands what you're going through and gives you the best service possible. Let me help you on your path home!
What clients are saying about Lauri Brockson Group