Patterson-Schwartz Agent Profile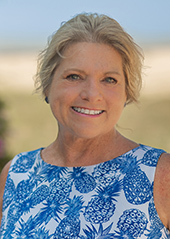 Julie Ellis Hall

Rehoboth Beach Office
How Can Julie Help You?

---
About Julie Ellis Hall
About me...
A Lewes native, born and raised at the beach, I have deep roots in the area. I am familiar with the local trends and have a broad understanding of Lewes, Rehoboth, Bethany, and most all of Sussex County. I owned and operated Bayside Auto Sales, so customer service and financial savvy-ness runs in my blood. With 31 years of real estate experience, I provide clients with a rare perspective of the region and the current, ever-changing real estate market. Having personally owned, invested, developed, built, and managed residential and commercial properties for two decades, I bring unique expertise to my clients. I accept and embrace the even the biggest real estate challenges and can assist you in all facets of your real estate transactions. Whether you are a buyer, seller, investor, or developer, looking for a small inland bungalow in Millsboro, or large oceanfront property in Rehoboth (or anything in-between), I will work with you to develop strategies to fulfill your Real Estate goals.
About my team...
We are your neighbors. #WeAreLocal
Georgie's and my knowledge of the area helps us determine the best price for a home. We love sharing our experiences and memories of the area with our clients and customers; they feel even more comfortable and excited about buying their perfect beach home and moving here.
Both of us believe that the beach is not only a vacation destination, but a way of life.
"Life at the beach is different.

Time doesn't move hour to hour, but mood to moment.

We live by the currents, plan by the tides, and follow the sun." – Sandy Gingras

 
With our relaxed beach mentality, we would love to help you find your dream home to park your flip flops and anchor your heart. #WeAreLocal
 
What clients are saying